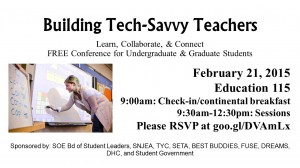 The School of Education's Board of Student Leaders, SNJEA, TYC, SETA, BEST BUDDIES, FUSE, DREAMS, Deaf-Hearing Connection, and Student Government's first-ever conference for pre-service teachers focused on incorporating technology into daily instruction.
Presenters will host sessions on the use of Google Drive, Kahoot, SMARTboard and interconnected technologies in the classroom. This opportunity is FREE and available to all undergraduate and graduate students and will provide information applicable to all levels of education. Be sure to bring a laptop, smartphone, or tablet to interact with the presentations!
We hope you join us in becoming a Tech-Savvy Teacher!
Please be aware that registration for this event has closed.

Attendees will receive a professional development certificate upon completion. Those who RSVP by Saturday, February 7th, will be entered in a raffle for a chance to win School of Education apparel.