All of our teacher-education programs lead to state teaching certification, a lifetime licensure that authorizes you to teach in New Jersey schools in your area of specialization. In addition, many other states recognize our high-quality programs with certification reciprocity. While the path to certification has multiple steps, our dedicated certification office is here to ensure you understand the process and stay on track to meet your goals.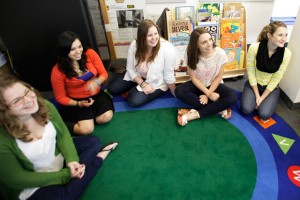 Undergraduate Programs
Classroom immersions build progressively, from first-year observations to junior-year teaching practica.
Five-Year BS/MAT Programs
Earn two degrees and multiple certifications with an extra year of study in high-demand, specialized areas.
Graduate & Certificate Programs
Advance your career with specialized certifications through our graduate degree and certificate programs.